E-mail Marketing
Email marketing has evolved into a powerful tool for businesses to connect with their audience, deliver compelling messages, and boost sales.

In an era where the digital world is being dominated by social media and flashy advertisements, it might come as a surprise that one of the most effective marketing strategies is rooted in a simple, decades-old technology: email.
It is a digital marketing strategy that involves sending emails to a group of recipients with the purpose of delivering commercial messages, promoting products or services, building relationships with customers, and ultimately, driving engagement and sales.
To unlock the magic in email marketing, the key lies in the types of marketing emails you send out.
6 Major Types of E-mail Marketing
Welcome/Confirmation Email
Welcome emails are like the warm handshake that greets a new customer. They are the first point of contact between your business and a potential client.
Imagine signing up for a newsletter or creating an account on a website; you'll likely receive a welcome email shortly thereafter.
These emails serve to confirm the user's action and provide a heartfelt plus friendly introduction to your brand.
Newsletter emails are the regular updates that keep your subscribers in the loop about your latest news, products, or brand developments.
They maintain an ongoing connection with your audience, providing valuable information that keeps them engaged.
The newsletters are available only to those who opt for it and the the news stories keeps subscribers informed and entertained, enhancing their loyalty.
Promotional emails are all about showcasing your products or services.
They announce new arrivals, special offers, limited-time deals, or exclusive content to entice subscribers to make a purchase.
For instance, you could highlight featured products, discounts, and personalized product recommendations, urging customers to explore and buy.
Sometimes, subscribers become disengaged over time, and this is where re-engagement emails come into play. These emails aim to reconnect with users who haven't opened or engaged with your emails recently.
As a brand, you want to send re-engagement emails with subject lines like "We miss you," offering incentives or reminding users of the value they once found in the service.
Milestone emails express appreciation and celebrate significant events, whether they're personal milestones like birthdays or brand achievements.
For instance, you could send emails to your customers during your brand's one year anniversary, expressing how their service has contributed to your brand's growth.
You can equally send out personalized birthday emails to customers, offering them a token of appreciation- Whatever it is your brand can give. These emails create a sense of connection and loyalty.
Lead nurturing emails are the basically patient gardeners of the email marketing world.
They focus on building and maintaining relationships with potential customers until they are ready to make a purchase.
These lead nurturing emails offer valuable content, such as eBooks and webinars, to educate and engage leads, gradually guiding them toward conversion.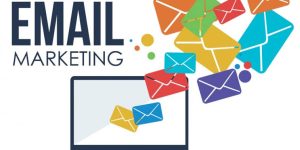 Harnessing the potential of email marketing is paramount for businesses seeking to thrive in the online world.
As you embark on your email marketing journey, remember that Instamallglobal is here to be your partner every step of the way.
Our expertise and dedication will ensure that your email marketing efforts are not just effective but also a driving force behind your business's success.
Conclusion
The digital landscape is constantly evolving, email marketing remains a timeless and potent strategy.
Whether it's welcoming new customers, delivering informative newsletters, promoting products, re-engaging disinterested subscribers, celebrating milestones, or nurturing leads, email marketing has the flexibility to adapt to various business needs.
By implementing these email marketing types effectively, businesses can foster strong connections with their audience, drive sales, and achieve long-term success.
So, don't underestimate the power of the inbox; it's a place where your brand can truly shine.
Follow us on Instagram : Here
Check out more of our blogposts : Here